Vanavara Preparations Continue – February 2016 Prayer Update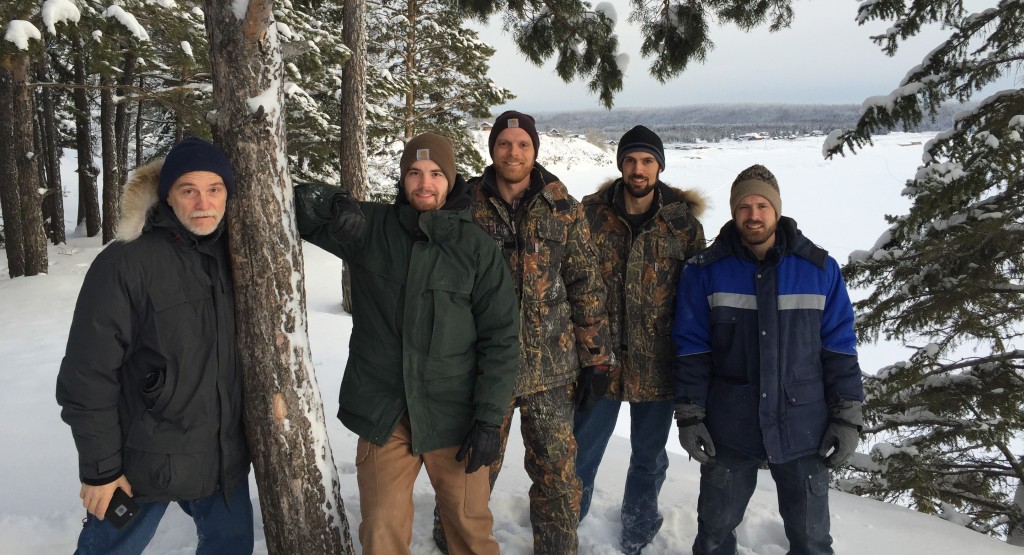 To download a printable PDF of this prayer letter with pictures and full graphics, please click HERE

Vanavara Preparations Continued
Wow! Where do I begin? Everything has been in high gear since our last update as we have fervently been preparing for our move. I have been up to Vanavara and back twice, working on our apartment and Katie has been busy ordering our needed groceries and packing up house, but let me start from the beginning and share what the Lord has done these past two months.
After a brief time of rest and participation in the Christmas and New Year's holidays and services, we were blessed to welcome a work crew from the States, consisting of my Dad, and 3 brothers — David, Nathanael and Michael Troester. These 4 sacrificially took 1 month of their time away from their jobs and families to come and help us remodel our apartments in Vanavara. They arrived in Krasnoyarsk on January 9, attended services with us at Krasnoyarsk Baptist Church on the 10th, and we left for Vanavara on Monday, the 11th of January.
Our original plan was to drive up the winter road to Vanavara, work for 3 weeks, and drive back to Krasnoyarsk in time for them to fly back to the States on February 5. However, what I thought was a simple oil leak on our vehicle turned into a complete engine rebuild and overhaul.
Due to the New Year's holidays here in Russia, there was no way the truck would be ready within the time-frame that our crew had, so we had to pursue Option B — we had to fly to Vanavara. Thankfully, the Lord provided tickets for all six of us on short notice and we were still able to fly out on the 11th as had hoped. Although this was not how we planned it, we had to trust that the Lord had a purpose for us not to drive the winter road this time.
After being in Vanavara for a few days, we began to see some of the benefits of a 2-hour flight vs. a 26-hour drive on the winter road. We arrived much fresher and actually gained 2 days of work time that would have been missed had we driven the 1600+ km from Krasnoyarsk.
Once we got to work, it didn't take long for our team to mesh as we worked together very well and had a lot of fun along the way. The Lord put together a team with just the right skill-sets that we needed as amongst all of us we had various backgrounds in finish carpentry, electrical, tile work, general construction, and plumbing. Days were long and the work many time left us trying 3-4 different approaches before finding the right solution, but the Lord gave strength and wisdom and in the end, we completed much of the needed work. The Dean's apartment was brought to a point where it just needs the finishes (wallpaper, finish flooring, doors hung, etc.), and ours was brought to almost the same point.
I was forced to leave the project early to come back to the city in order to extend my residency permit and take care of our vehicle registration, so the rest of the crew with Bro. Dean finished up the time there in Vanavara and flew back to the city on February 1. After a couple of days of sightseeing and souvenir shopping and general relaxing, everyone flew back home on Friday, February 5.
Words cannot express our overwhelming gratitude to these men who sacrificially gave of themselves to help make our transition to Vanavara as smooth as possible. We greatly enjoyed the time of fellowship with them, and our family was greatly saddened to see both the Troesters and Grandaddy leave.
Moving Date!!!
We now have a date for our move to Vanavara! March 4, 2016 will be the day we load up the Kamaz truck with all of our households goods and materials and we should be pulling out of Krasnoyarsk on Saturday, March 5. The plan is for me to drive our truck and follow the Kamaz up the winter road, arrive sometime late Sunday or early Monday morning and Katie and the kids will fly out on Monday afternoon and meet me there.
To say we are excited and little bit scared would be an understatement. We know this is where the Lord wants us, so we are eagerly looking forward to ministering to the people in Vanavara.
Oh, by the way, do you remember that I said we had to trust the Lord for his purpose in our not driving up the winter road? Well, it wasn't until the end of our time in Vanavara that the Lord revealed His purpose for our flying up to Vanavara instead of driving on the winter road. Since we did not drive, we had no transportation once we arrived in the village, so we had to find other means to haul six men around. We were put into contact with a young man who had a van, and we would call him whenever we needed to run to the store for bread or pick up some fasteners at the local stores. Through that contact we learned much about the town and it's people, and a friendship began to grow. By the time we left Vanavara, he had taken us around sightseeing and had even had us in his home as guests!
Had we driven up, we would not have needed transportation in the village, and this friendship would not have developed with this young man and his family. It brings tears to my eyes when I think that through the "setback" and unexpected expense of a total engine rebuild, we have been able to establish a valuable relationship with a young family that is even more precious than gold. Please uphold us in prayer like never before as we continue to build relationships in the community and begin to minister in Vanavara.
A Special Thank You
In order to finish up a few things in the apartment before we move, I flew back up to Vanavara from February 8-15 and it was a tremendous blessing to have Missionary David Sterling fly up with me and help bring the apartment a little closer to completion.
To see a video of the apartment that we are moving into, you may CLICK HERE
As always, we truly appreciate your faithful prayers and support of our ministry.  We are honored to be your representatives to the people of Siberia.
Prayer Praises
Safe travels for all to and from the US and Vanavara
That our vehicle was not road-worthy and we had to fly to Vanavara
That we have established a solid friendship with a young family in Vanavara
Our apartments are livable and we can comfortably move in
Prayer Requests
Safety in travels as we move to Vanavara on March 4
Safe travels for the crew coming over in January
Wisdom as we purchase the last remaining grocery and household items before the move
Current relationships to be strengthened and new ones to be developed when we move to Vanavara
Wisdom to know when and how to present the Gospel
Please be sure to download the PDF version of the prayer letter HERE for pictures of the apartment and the work crew in Vanavara.